Date: Saturday, May 13, 2017
Start: 11:00 AM
End: 3:00 PM
Venue
The University of Winnipeg's team of enthusiastic scientists will be presenting their demonstrations and hands-on activities at the University of Manitoba this year!
Click here for information about the location from the University of Manitoba Science Rendezvous site.
Join us at the Science Complex for a free, family-friendly festival celebrating science in Winnipeg!
Participate in Hands-on Science!
There will be many hands-on activities including the physics of music, paper flower chromatography, identifying baby animal calls, visual illusions, a smoke cannon, the latest projects from Applied Computer Science, and activities illustrating the importance of our uniquely human opposable thumb. Complete the Science Passport to enter a chance to win one of our exciting prizes!
Highlights
Click here to see our event featured on CBC's the National in 2014!
Be dazzled by our chemistry magic show! @ 12:30 pm & again @ 2:00 pm
Try the latest computer programs!
Fire a smoke cannon!
Learn how to win "Let's Make a Deal"!
Learn the importance of an opposable thumb!
View the data from the UofW Cloud Punchers!
Learn more about our participation in the Canada Wide Experiment High Altitude Balloon Experiment (CWE-HABEX)! .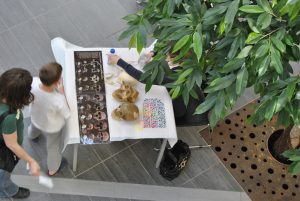 For more information, please contact:
Tabitha Wood te.wood@uwinnipeg.ca
This event is in partnership with Let's Talk Science
See more events with Let's Talk Science >>
ttp:/
Student Volunteers
University of Winnipeg students interested in volunteering please contact:
Julia
ltsuofw.sciencerendezvous@gmail.com