Venue
University of Manitoba, Fort Gary campus,
Engineering and Information Technology Complex (EITC) and
the Science Complex buildings,
75 Chancellors Circle, Winnipeg, MB R3T 5V6
Explore science in action!
From the enlightening to the fun and quirky, Science Rendezvous will engage adults, families, and children alike in a day of free fun and discovery.
Come explore the dozens of interactive displays, hands-on activities, the Chemistry magic show, the Physics Circus, and the cutting-edge research conducted at our Universities.
There will be free prizes, balloons, and slime!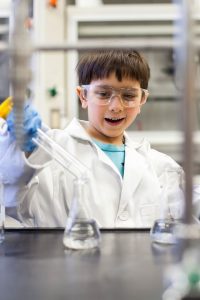 Participants
Faculties of Science
Faculty of Agricultural and Food Sciences
Faculty of Engineering
Let's Talk Science
WISE Kid-Netic Energy
Click here for map of event location and parking
Highlights
Activities this year will include:
Chemistry Magic Show
Physics Circus
Spaghetti Bridge
Biology and Microbiology lab tours
Cretaceous Menagerie
Ice Camp
Bottle Rocket Launch
Balloon Microbes and Molecules
Plinko
Cyanotype Mother's Day Cards
Papermaking
Scientist Photo Booth
"Speed Date a Scientist"
Solar Observatory
Painting Robot: "Picassnake"
Bee Observation
Make butter
Super Taster Quiz
Extract strawberry DNA
Make slime and a milky swirl
Oobleck Pool (run across cornstarch and water)
… and much more. Please check back for more details.
Show and Tour Schedule:
Chemistry Magic Show: 12:00 and 2:00 in Armes Building
Physics Circus Show: 11:30 and 1:30 in Armes Building
Cretaceous Menagerie Tour: 1:00 in Wallace Building
Biology lab Tour: 11:15, 12:15, and 1:15 in Buller Building
Speed Date a Scientist: 1:00 in Engineering E2: 229
For more information, please contact:
sciencerendezvous@umanitoba.ca