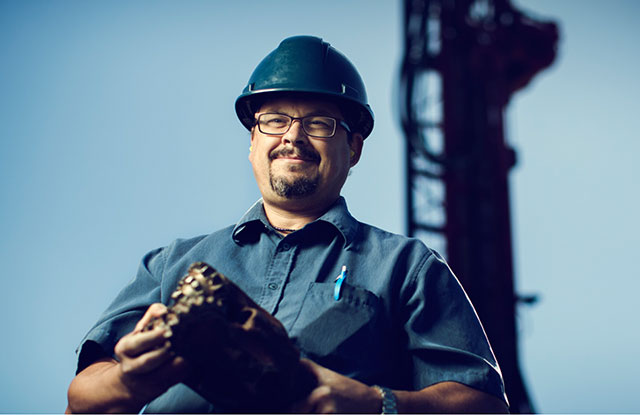 Stephen Butt (MUN) Engineering and Applied Science
Anaconda Mining Inc. – Baie Verte, NL
Investigation of blast hole logging while drilling for Pine Cove Mine
This event is featuring the research of Dr. Stephen Butt, who has been working in collaboration with Anaconda Mining Inc., with support from the Natural Sciences and Engineering Research Council of Canada (NSERC). Assisted by NSERC's innovation programming, Anaconda Mining turned to Dr. Butt to help them solve the mine blasting challenge of identifying ore and waste rock intervals within a drilled blast hole due to the dilution of the cuttings. This challenge results in portions of the blasted muck being grouped in the wrong ore grade category for processing or, worse, being designated as waste with no gold recovery at all. It is hoped that this research collaboration will lead to a more efficient way to determine if the content is designated as ore to send to the mill for processing, or waste. The project will also lead to further collaboration on rock penetration and fragmentation problems within the company's mining and development activities.
Stephen Butt (MUN) Génie et sciences appliquées
Anaconda Mining Inc. – Baie Verte, T.N.L.
Étudier la composition des trous de mine pendant le forage à la mine Pine Cove
Cette activité présente les travaux de Stephen Butt qui a collaboré avec Anaconda Mining Inc. grâce à l'appui financier fourni par le Conseil de recherches en sciences naturelles et en génie du Canada (CRSNG). Grâce aux programmes d'innovation du CRSNG, Anaconda Mining Inc. a demandé à M. Butt de l'aider à régler un problème lié au dynamitage : repérer le minerai et les stériles dans un trou de mine foré après la dilution des déblais. En raison de ce problème, la teneur en minerai de certaines parties du terrain de couverture qui a été dynamité est mal évaluée aux fins du traitement ou pire, est évaluée comme nulle (aucune récupération d'or). On espère trouver, grâce à ces travaux réalisés en collaboration, un moyen plus efficace de déterminer si le terrain contient du minerai qui doit être envoyé à l'usine de transformation ou s'il doit être considéré comme des déchets. Le projet mènera aussi à une collaboration plus approfondie pour régler les problèmes de pénétration et de fragmentation de la roche auxquels se heurte l'entreprise dans le cadre de ses activités d'exploration minière et de mise en valeur.